The purpose of this website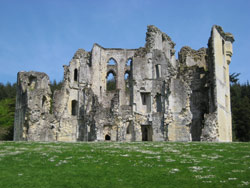 This website provides an introduction to the history and archaeology of the fascinating landscape of the Cranborne Chase and West Wiltshire Downs Area of Outstanding Natural Beauty (AONB). It also provides an introduction to historic landscape characterisation and explores how the AONB is conserving and enhancing this special heritage through Historic Environment Action Plans.
In the Explore section you can travel through time, using the interactive timeline, to discover how people lived in the past and how they helped create the landscape we see today. You can also explore key historical themes such as the impact of Medieval Hunting forests. Finally you can learn about the history of archaeological discovery.
In the Characterising section you can learn about the different aspects of the historic landscape character of the AONB. You can also explore how previous land uses are fossilised in today's landscape creating timedepth in the landscape. There is a special section devoted to the historic character of the routeways in the AONB. Finally you can explore the historic character of the AONB by area.
The Conserving section is more technical in nature. It is aimed at people who want to find out about the AONB Historic Environment Action Plans or use data from the Historic Landscape Characterisation. There is a special section aimed at other protected landscapes (AONBs and National Parks) containing methodologies to help them carry out similar work.