Historic Landscape Characterisation
The starting point for the Cranborne Chase and West Wiltshire Downs Historic Landscape Characterisation is the present day landscape. It maps, records and describes the historic landscape character of the present day landscape and also identifies where previous land uses are fossilised in the landscape.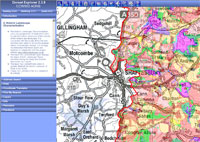 The full HLC dataset can be explored in the AONB Interactive Mapping pages. Click here to open the maps in a new window.
An introduction to the historic landscape character of the AONB can be found in the exploring our historic landscape section.
Finally the full HLC report can be downloaded here in sections, or alternatively the full report is available to download as a single document:FULL REPORT (Lo-Resolution) PDF (6.7 mb)
If you would like a CD of the full resolution report posted to you, please use our contact page to get in touch. Thank-you.