Previous Land Uses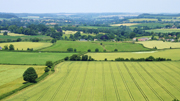 Half the project area has fossilised traces of previous land uses. The details of these have been recorded in the HLC dataset.
This overlaying evidence of historic land uses creates the character of the landscape as we perceive it today. Some areas of land in todays landscape may be characterised as predominantly 19th century for example but may also contain traces of earlier post medieval and medieval land use.
The way in which this time depth is built up can be seen in the series of maps. It is possible to dig down through the layers in the landscape which have been created over time.
(Use the arrows below the image to scroll, the text will change below the arrows)

Character of Landscape Today
This map shows today's landscape - the predominance of red shows that over a third of the landscape of the AONB is 20th Century in character, while another third is predominantly 19th and 18th century in character.

Removing the 20th century
This map neatly illustrates that nearly all the landscape which is predominantly 20th century in character today preserves traces of previous land uses in preceding periods.

Removing traces of the 18th and 19th Century landscape
Over 50% of the landscape preserves traces of the post-medieval landscape, spread throughout the AONB.

Removing traces of the Post-medieval landscape
We are then left we the oldest traces of past land use surviving in the landscape (a word of warning this map obviously does not show all the areas in the AONB where there is evidence of, for example, prehistoric activity, but only where this activity still effects the character of today's landscape).