An overview of the character of the AONB's historic routeways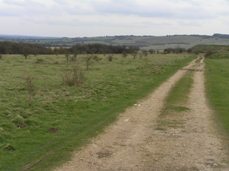 The AONB is characterised by a dense network of roads, tracks, bridleways, and footpaths. There are over 1500 km2 of rights of way in the AONB and the majority of these routeways are shown on the earliest available maps and are of some antiquity.
Pilot Historic Routeways Characterisation
The AONB has undertaken a pilot historic routeway characterisation covering approximately 100 square kilometres of the AONB. The study aimed to characterise all present day routeways in this landscape including roads, tracks, and paths as well as extinct routeways which still have an impact on the historic character of the area, for example the former line of Roman Roads which can still be traced in the landscape. Futher details are available from the Methodology Section of the Website
The main historic characteristics of the roads in the AONB
Long distance routes tend to run east west across the AONB. These follow sinuous routes following local topography and include modern roads as well as ancient drove ways now constituting unpaved byways.
There is only one major north-south route through the AONB on its western side, the A350; this is accompanied in the southern half of the AONB between Blandford Forum and Shaftesbury by a parallel minor road which follows the top of the escarpment.
The imposition of major modern highway structure is minimal and is restricted to the route of the A350 and A303.
The majority of roads are minor, often twisted and narrow, with steep inclines when they climb onto the downland. With the exception of downland areas they are often hedged.
Many of the bridleways, footpaths and tracks are associated with green lanes and sunken Holloways. This is especially the case through the Vale of Wardour where there is a dense network of irregular footpaths.
Sinuous networks of roads, tracks and paths run through the bottoms of the Chalk Valleys of the AONB. They are often associated with fords and medieval bridges. These contrast with the straighter systems of perpendicular tracks, bridleways and sometimes road which connect the valley bottoms to the downland above. These often connect with the long distance drove ways.
Paths and tracks across the downland tend to be straighter and longer. These often represent the survival of one main route, of a series of former tracks which snaked unrestrained across the downland but lead to the same destination. The same pattern can often be observed in areas of former common land in the AONB.
For more detailed information visit the Historic Landscape Themes page in the Conserving our Historic Landscape section