Roman AD 43 - AD 410
Evidence for Roman settlement in the AONB is extremely rural in character with no Roman urban centres being present. The importance of this rural area increased in the later Roman period as the southwest region as a whole prospered. There are several Roman Villas within the AONB which would have formed the centre of farming 'estates'. The Roman Villas themselves are comprised of distinctive rectangular stone buildings often associated with mosaics, under floor heating (hypercaust), and ancillary buildings including bath houses, and are often situated within extensive field systems.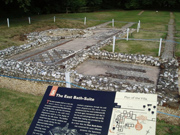 There have also been a number of significant investigations of non-villa rural sites notably in the heartland of Cranborne Chase.
Another dominant landscape feature are the Roman Roads which crisscross the area, parts of which survive as extant earthworks (such as the Ackling Dyke).
The Photograph is of Rockbourne Roman Villa
(Copyright Nigel Freeman licensed for reuse under a Creative Commons license.)
Religious belief in the Roman period is by the Roman Temple at Cold Kitchen Hill. This was excavated extensively, but unfortunately quite poorly, between 1925 and 1927. The finds recovered were however spectacular including large number of brooches and votive offerings.
Burial tended to consist of inhumations including cemeteries at Yarnbury Castle and Teffont Quarry, and many other single inhumations. The recovery of two late 4th century strap-ends at Charlton Down, decorated with a peacock, and Monkton Deverill, decorated with a tree of life; hint at the adoption of Christianity in the area.
Roman industrial activity is hinted at by the exploitation of the Chilmark stone quarries during this period.
Environmental Evidence - There are no studies of environmental sequences within the AONB that cover the Roman Period. Studies of deposits from the Kennet Valley in northern Wiltshire were indicative of mixed farming, the arable principally being cultivation of spelt wheat.
For further information you can download a full introduction to the archaeological periods of the AONB by clicking here PDF (170 Kb)