Iron Age 700 BC - AD 43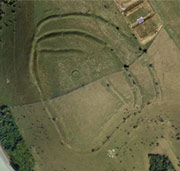 The Early Iron Age dates from 700BC to 400BC. The most visually recognisable and iconic features from this period are the Hillforts. There are twenty-one Iron Age hillforts in the AONB often positioned in prominent positions. None of the hillforts in the AONB has seen systematic archaeological investigation.
In contrast Iron Age settlements within the AONB have seen a long history of research and excavation. These have revealed a pattern of different settlement types (enclosed, unenclosed), and sizes (single and multiple dwelling), with the classic pattern of round house associated with ancillary dwellings. The settlements are set within large scale field systems.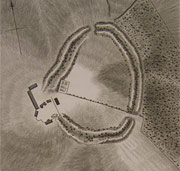 The Later Iron Age 400BC to AD43 is the period when most of the smaller Iron Age Hillforts went out of use, probably including many of the forts in the AONB, and the focus was placed on more ostentatiously defended Forts. Settlements changed to generally becoming smaller and more defended.
The area of the AONB in the Late Iron Age is associated with the pre Roman coinage belonging to a people called the Durotriges. The area is also associated with Durotrigian pottery and with distinctive nucleated settlements. These form multiple ditch systems frequently associated with banjo enclosures. Notable concentrations of these nucleated settlements can be found associated with Great Ridge and Grovely Wood. These represent highly ordered landscapes with enclosed and unenclosed settlements continuing in usage through the Romano-British period.
Burial practices in the Iron Age changed from the Bronze Age burial. Child burials were often located within settlement contexts as at Woodcutts. Adult burials show a range of practices including insertion into Bronze Age burial mounds as on Lamb Down, and burial in shallow pits as at Teffont. The religious practices of the Iron Age are represented by the shrine on Cold Kitchen Hill.
For further information you can download a full introduction to the archaeological periods of the AONB by clicking here PDF (903 Kb)
This document forms part of the wider AONB Historic Environment Action Plans.