Modern Archaeological Research
From the mid 1970s onwards a series of large scale research projects have been instigated by individuals affiliated to universities.
The first project, led by Richard Bradley, John Barrett and Martin Green, initially focused on excavations of the Bronze Age site at south Lodge Camp before widening its scope to look at the social development of monuments and landscape of the Cranborne Chase from the Neolithic to the Iron Age.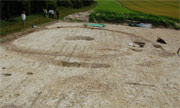 Martin Green has continued his investigation of the prehistoric and historic landscape surrounding his farm, and continues to conduct regular fieldwalking, survey and excavations.
Charly French, Mike Allen and Helen Lewis undertook a palaeo-environmental and archaeological investigation of the upper Allen Valley of Cranborne Chase, Dorset, between 1998 and 2003. This involved a programme of valley-wide geoarchaeological survey and palynological analyses of the relict palaeo-channel system, along with sample investigations and open area excavations of a variety of prehistoric sites in the area.
Bournemouth Univeristy, led by John Gale, have undertaken a programme of excavation at the Neolithic Henge at Knowlton and a group of Bronze Age Barrows at High Lea Farm, Hinton Martell.
The most recently instigated research project 'The Damerham Archaeology Project' has stemmed from the discovery of two previously unknown Neolithic Long Barrows and other prehistoric features in the Parish of Damerham. It is a community archaeology project currently using geophysical survey to better characterise the monuments, but hopes to undertake fieldwalking and potentially targeted excavations in subsequent seasons. More details can be found at www.damerhamarchaeology.org [last accessed February 2010]
The ongoing Cranborne Prehistoric Landscape Project concentrates on detailed palaeoenvironmental sampling of Neolithic and Bronze Age monuments in the Down Farm environs, and focuses on aspects of the development land use (Allen 1998). This builds on all of the projects detailed above.
Download a short introduction to the history of archaeological discovery in the AONB (PDF 851 KB).
This document forms part of the wider AONB Historic Environment Action Plans.