Landscapes of Prehistory
The AONB has a host of nationally important Prehistoric sites including the great Dorset Cursus and Knowlton Henge, with its ruined Medieval Church nestled in its centre.
These include large numbers of Neolithic Long Barrows, the earliest built monuments in Britian.
There are complexes of Neolithic monuments. These include the Dorset Cursus (click on the map below to see more), Damerham, Knowlton and the Causewayed Enclosure on Whitesheet Hill. These monument complexes provide a key focus for later Prehistoric activity
.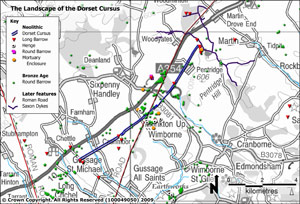 There are large numbers of Bronze Age Round Barrows but notably absent from the Vale of Wardour and later Bronze Age and Iron Age settlements in the centre of extensive field systems.
The AONB also holds key caches of palaeoenvironmental information buried in the chalk valleys and sealed under Long Barrows. These allow archaeologists to reconsturct the environment in the past
More information on the Prehistory of the AONB can be accessed by clicking here: Theme 8: Landscapes of Prehistory.
This document forms part of the wider AONB Historic Environment Action Plans.